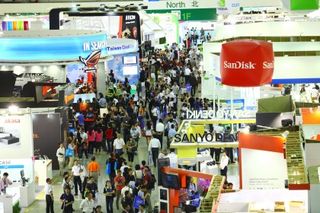 Computex 2017 is next week, and the biggest brands and most die-hard fans in computing will descend upon Taipei, Taiwan. It's arguably the most important show of the year for the desktop, laptop and components you'll want to buy.
This is the show for folks who are left disillusioned by the lack of overclocking competitions and talk of gigahertz and teraflops at more mainstream tech expos, like CES in Las Vegas.
While we've already seen some of the wares that key computer makers will show off, namely that of Acer and MSI, there's plenty more still behind all manner of curtains and veils.
However, recent leaks and announcements from the firms yet to break their big news of the show can help us make some educated guesses as to what we might see.
Here's everything we are prepared to witness from the biggest computing companies planning to touch down in Taipei next week, from May 30 through June 3.
Acer
This firm based out of the very same country Computex is held annually has already shown its cards regarding the big show. With that, we know with certainty that we can expect to get hands-on time with Acer's Nitro 5 gaming laptop as well as its Acer Spin 1 2-in-1 laptop and new Android tablets with Quantum Dot displays.
Having just come off of its massive annual media event in New York City this past April, chances are slim that we'll see much more from Acer during Computex. If we had to wildly guess, perhaps Acer will have more in PC gaming hardware to show off, that being a major focus of the show these days – just don't hold your breath.
AMD
Having been teasing its new Vega graphics chip architecture for what seems like eons now, AMD will perhaps choose Computex as the place we'll finally see new the first Vega graphics cards. After all, we've at least already seen the developer-grade Radeon Vega Frontier Edition. We have to be close to seeing the future of PC gaming on AMD hardware by this point.
Speaking of which, we've been hearing plenty over the past few weeks of the next wave of AMD Ryzen processors, the Ryzen 9 Threadripper series. Designed to compete with Intel's supposed Core i9 line of high-end chips, Threadripper will come rocking 16-core processors that may be slower than Ryzen 7 CPUs in frequency, but far more ready to handle multifaceted workloads.
Computex would be the perfect venue to showcase the power of not only Vega GPUs, but these new Threadripper CPUs as well.
[Source:- techrader]