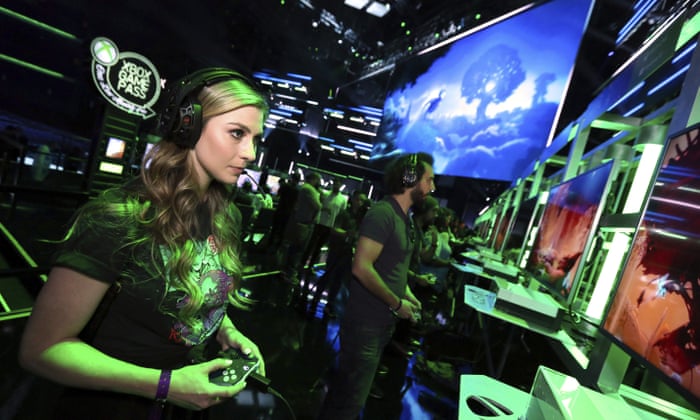 The E3 2018 showcase in Los Angeles was packed with more than 50 games, including Halo Infinite and three new Gears of War options, plus Bethesda release Fallout 76. Photograph: Casey Rodgers/Invision/AP
Microsoft has showcased the line-up for its Xbox One console and Windows platform in 2018 and 2019, announcing new Halo and Gears of War games in a press conference in Los Angeles on Sunday that covered 50 games in total. Game publisher Bethesda also announced fantasy role-playing game The Elder Scrolls 6 and shooter Doom Eternal in its own announcement, and spoke in more detail about the highly anticipated Fallout 76, a role-playing game set in the immediate aftermath of a nuclear war.
Microsoft kicked off with a new game in the long-running and beloved science-fiction shooter series Halo, called Halo Infinite. Three new Gears of War games also made an appearance: one on mobile (Gears Pop!), one for PC (Gears Tactics), and one for Xbox One (Gears 5), starring returning character Kait Diaz.
Forza Horizon 4, meanwhile, is a new racing game that's played in an online world where every driver you meet is another human being. It's set in the UK, with dynamic weather and seasons that players across the world will experience at the same time.
But the company went further than the usual driving and shooting, showing a sequel to a beautiful platform game Ori and the Blind Forest, a skateboarding game called Session, an exploration game about a tiny fox, a new game from the developers of Dark Souls named Sekiro: Shadows Die Twice, a game about a boy who pretends to be a superhero, Disney-themed Japanese role-playing game Kingdom Hearts, and several other games that broaden the Xbox One's line-up.
Microsoft has also bought or established five new game studios, a huge investment in new creative talent. UK developers Ninja Theory (makers of Hellblade: Senua's Sacrifice) and Playground Games (of Forza Horizon) are both now Microsoft studios. It has also acquired Undead Labs and Compulsion Games, and established a new studio in Santa Monica called The Initiative.
There were first looks at some anticipated games from other developers. Bethesda showed a first trailer for Fallout 76. Ubisoft's The Division 2 has players protecting the populace of a ruined Washington DC after a pandemic destroys the US population. Dying Light 2 is a zombie survival game that builds a better story based on choice and consequence on top of the gore and terror of the first game in the series. Impossibly stylish demon-slaying action game Devil May Cry, from Capcom, returned after a 10-year absence. And Jump Force, from Bandai-Namco, pits anime stars against each other in a colourful fighting game. Cyberpunk 2077, from the developers of The Witcher 3, was also shown for the first time.
Later in the evening, in a press conference marred by some awkward stage moments and featuring, somewhat bizarrely, a performance from Andrew WK, Bethesda gave its fans exactly what they wanted: the announcement of Elder Scrolls 6, the follow-up to the millions-selling Skyrim. Absolutely nothing was revealed about the title apart from a glimpse at a vast landscape, which suggests that it's a long way from release.
Other Bethesda announcements included Doom Eternal, a sequel to the much-enjoyed Doom reboot, and Wolfenstein Youngblood, a co-operative shooter featuring Jess and Soph, the twin daughters of series hero BJ Blazkowicz. Their quest is to locate their father in a Nazi-occupied 1980s Paris.
Bethesda's head of development, Todd Howard, arrived on stage with a series of revelations, including the intriguing news that Fallout 76 will be an online multiplayer title. Participants will still create characters and head off on story quests, but they'll now meet other players en route. According to Howard, the population will be kept to dozens rather than thousands of players, and everyone will be able to co-operate or fight over resources. Nuclear weapons will also be a menacing presence in the game, with players searching for launch codes before firing missiles at whatever they want.
Howard also showed a brand new science fiction RPG franchise named Starfield, which Bethesda has apparently been working on for several years. There were no further details.
["Source-theguardian"]