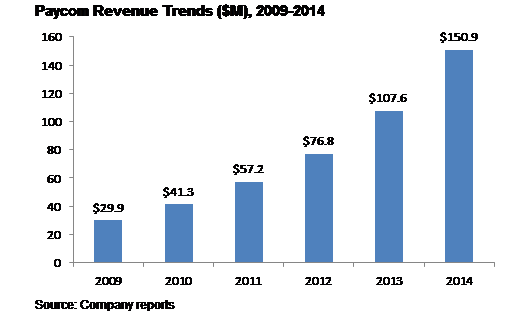 Paycom Software, Inc. (NYSE:PAYC) Q1 2018 Earnings Conference Call May 1, 2018 5:00 PM ET
Executives
Craig Boelte – CFO
Chad Richison – President & CEO
Analysts
Raimo Lenschow – Barclays
Michael Nemeroff – Credit Suisse
John DiFucci – Jefferies
Albert Chi – JPMorgan
David Hynes – Canaccord
Brent Bracelin – KeyBanc
Brad Reback – Stifel
Mark Marcon – R.W. Baird
Brian Schwartz – Oppenheimer
Shankar Subramanian – Bank of America/Merrill Lynch
Parthiv Varadarajan – Mizuho Securities
Operator
Good day, and welcome to the Paycom Software First Quarter 2018 Quarterly Results Conference Call. [Operator Instructions] Please note, today's event is being recorded.
I would now like to turn the conference over to Craig Boelte, CFO. Please go ahead.
Craig Boelte
Thank you, and good afternoon. Before we get started, I would like to note that certain statements made during this conference call that are not historical facts, including those regarding our future plans, objectives and expected performance, are forward-looking statements within the meaning of the Private Securities Litigation Reform Act of 1995.
These forward-looking statements represent our outlook only as of the date of this conference call. While we believe any forward-looking statements we have made or make in this presentation are reasonable, actual results could differ materially because the statements are based on our current expectations and are subject to risks and uncertainties. These risks and uncertainties are discussed in our filings with the Securities and Exchange Commission, including our Annual Report on Form 10-K for the year ended December 31, 2017. You should refer to and consider these factors when relying on such forward-looking information.
Any forward-looking statements speaks only as of the date on which it is made and we do not undertake and expressly disclaim any obligation to update or alter our forward-looking statements, whether as a result of new information, future events or otherwise, except as required by applicable law.
Also during the course of today's call, we will refer to certain non-GAAP financial measures. A reconciliation schedule showing GAAP versus non-GAAP results is included in the press release that we issued after the close of market today which is available on our website at investors.paycom.com.
I will now turn the call over to Chad Richison, Paycom's President and Chief Executive Officer.
Chad Richison
Thanks, Craig, and thank you to everyone joining our call to review our first quarter 2018 results. I will start the call with some comments on our performance this quarter, provide an update on our perspective into payroll and human capital management or HCM software market, and then address some exciting developments at Paycom. Then Craig will speak to our financials before opening the line for question.
We kicked off another new year with robust numbers. We recorded revenue of $153.9 million representing growth of 29% over the comparable prior year period. Our adjusted EBITDA of $80.7 million represents a 52% margin. We were pleased with our performance and also that both metrics came in above the high end of our guidance range. Paycom continues to demonstrate leadership in the HCM sector. Earlier this year, one of the industry's most popular publications HR.com honored our organization at the 2018 Leadership Excellence & Development Awards. Our lead training and development program won the award for innovation and the deployment of leadership programs. This acknowledgement is a testament towards dedication towards training and developing our workforce which is one of Paycom's core values. I'm very proud of this recognition and look forward to continuing to foster a winning culture with a strong focus on leadership development.
["Source-seekingalpha"]