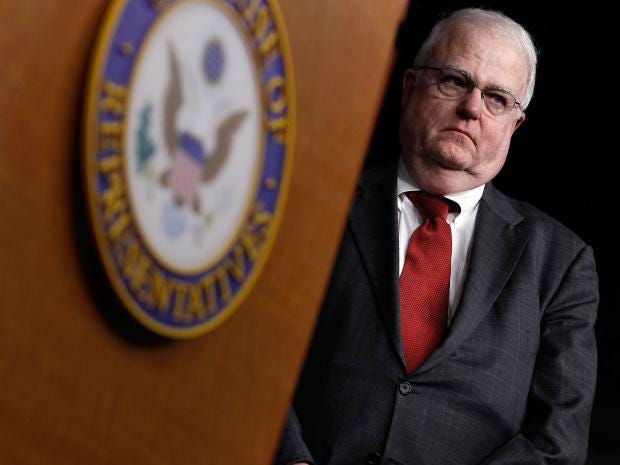 A Republican politician who voted to eliminate US Internet privacy rules has come under fire after saying "Nobody's got to use the Internet" when asked why ISPs should be able to use and share their customers' data.
Rep Jim Sensenbrenner told constituents it was up to them to decide whether they want to use the Internet at a town hall meeting with voters in Wisconsin's 5th congressional district.
An attendee at the meeting had questioned the lawmaker on the US government's recent decision to eliminate Obama-era broadband privacy rules, which critics have called a "blow" to user privacy.
The decision gives ISP companies the green light to sell browser histories and other information on its customers to advertising and marketing firms.
"Well, you know… nobody's got to use the Internet," Mr Sensenbrenner replied.
"And the thing is that if you start regulating the Internet like a utility, if we did that right at the beginning, we would have no Internet."
He continued: "Internet companies have invested an awful lot of money, you know, in having almost universal service now and, you know, the fact is, I don't think it's my job to tell you that you cannot get advertising through your information being sold.
"My job, I think, is to tell you that you have the opportunity to do it and then you take it upon yourself to make the choice.
"That's what the law has been and I think we ought to have more choices, rather than fewer choices with the government controlling our every day lives," Mr Sensenbrenner added.
Video of the town hall meeting captured the Republican's response and was shared on social media by American Bridge, a  research and communications organisation that says its aim is to "hold Republicans accountable", sparking outrage among Twitter users.
After Twitter users accused Mr Sensenbrenner of telling constituents "not to use the internet" if they don't want their information to be sold to advertisers, the Republican's Press Office team fired off a clarification, saying: "Actually, he said that nobody has to use the internet. They have a choice. Big difference."
The Democratic Party of Wisconsin hit out at the Republican, writing: "ICYMI. The out-of-touch, D.C. lifer Rep. Jim Sensenbrenner is at it again."
The Independent has contacted Mr Sensenbrenner's Press Office for comment.
US President Donald Trump signed a repeal of privacy rules brought into effect by his predecessor Barack Obama on 3 April.
Republicans narrowly passed the repeal of the privacy rules in Congress, with no Democratic support and in the midst of strong objections from privacy advocates.
The bill is a victory for telecommunications giants AT&T Inc, Comcast Corp and Verizon Communications Inc.
It repealed regulations that were adopted in October by the Federal Communications Commission under the Obama administration, requiring Internet service providers to do more to protect customer privacy than websites like Google or Facebook.
The rules had not yet taken effect, but they would have forced Internet providers to obtain consumer consent before accessing and sharing data including their geolocation and financial, health and children's information, as well as web browsing history, to advertising and marketing firms.
All three telecommunication companies said earlier this month that they would voluntarily refrain from selling customers' individual Internet browsing information, but they did not say anything about other personal data.
[Source:- Independent]