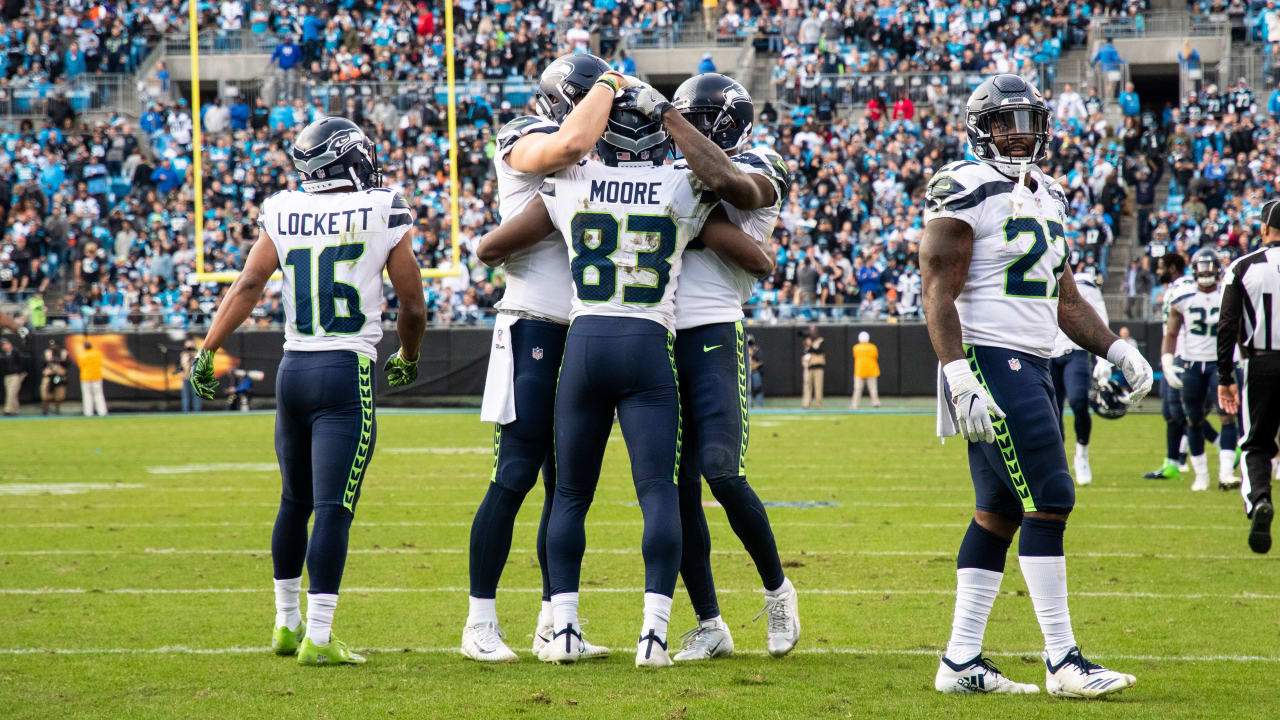 After losing consecutive games to the Chargers and Rams in which late comeback efforts came up short, the Seahawks have won two in a row using strong fourth-quarter finishes to secure those victories.
On Sunday, Russell Wilson and Seattle's offense produced a 70-yard touchdown drive to tie the game late in the fourth quarter, then after a defensive stop forced Carolina to try a 52-yard field goal, the Panthers missed the kick, Seattle's offense took over and quickly moved down the field for a field goal that gave the Seahawks a 30-27 victory.
That win, along with a Week 11 win over Green Bay that also featured a fourth-quarter comeback, has the Seahawks at 6-5 and in pretty good position to go after one of the NFC's two wild-card berths. And in a league where games so often come down to final possessions, Seattle's ability to finish strong these last couple of weeks bodes very well for its chances going forward.
"It was just a fantastic finish for our guys, and we needed all of it," Seahawks coach Pete Carroll said. "I'm really fired up for the whole group, and to see us finish like that, again. Last week we finished really well; we finished really well again today, and a beautiful job with the clock and the timing and all the things exactly how we wanted to do it, so I'm really proud of that."
While Wilson and the offense will deservedly get a lot of credit for the comeback win, the defense also played a big role even on a day when it gave up far more yards than it would have liked. Most notably, rookie cornerback Tre Flowers made a huge tackle on third down to limit D.J. Moore to a 3-yard gain when it looked like the rookie receiver had a lot of room to run had Flowers not tripped him up. That short gain meant a long field goal attempt, and Graham Gano's 52-yarder was no good, giving the Seahawks good field position with 1:40 left on the clock.
"That was a big," Carroll said of Flowers' tackle. "(Moore had) wide-open space, it was a heck of a big play for us."
That a rookie who has been a starter since Week 1 came up with one of the game's crucial plays is somewhat fitting, because one reason the Seahawks feel like they're finishing better has been the growth of young players who are being asked to step up in big roles this season.
"We have come a long ways, we've had a lot of young guys playing, and like we've said in the past, if we play them a lot early, by the midpoint, these guys start to become veterans for you," Carroll said. "We don't feel like we have any young guys playing anymore, so we should make better decisions, better choices, better reactions just because we've been there. So that does add up. The margin early the first couple of games, those games we gave away, the margin of experience, the right choice at the right time, could have made a difference for sure, but we had to struggle through it a little bit."
 ["source=forbes]